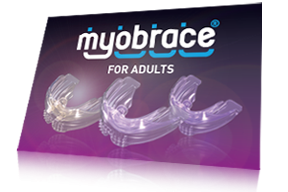 Many adults have crooked teeth and would like orthodontic treatment. Some may already have had braces previously, and have seen their teeth crowd up again. The majority of adult patients do not want to wear braces.
For over 20 years Myofunctional Research Co. (MRC) have developed orthodontic appliances to improve the dental and facial development of children, using myofunctional orthodontic techniques.
The Myobrace for Adults™ is a series of appliances that incorporates many of MRC's
 proven appliance design principles, including features that correct poor oral habits, along
 with other newly adapted design characteristics specific to treating malocclusion in
 adults.

Although adult treatment is more limited in terms of the potential for growth, biological
 adaptability and the ability to change in comparison to treating children, the concept
 remains the same. Clinical tests have proven the system successful in correcting habits
and improving dental alignment for adults.

The Myobrace for Adults™ is a three-phase appliance system that incorporates the
myofunctional characteristics consistent in all MRC appliances. As with all MRC
appliances, the Myobrace for Adults™ includes features that correct poor oral habits and
 encourage correct tongue posture and breathing. Using the force of the tongue indirectly
 expands the maxillary arch form. The appliances are also made in the ideal arch form to
 assist in the correction of natural arch development by applying light forces to the anterior
teeth.

The system is designed to be used in sequence, with treatment ideally starting with the
lighter more flexible appliances combined with the Farrell Bent Wire System™ (BWS™)
 and finishing with the harder final appliances used to achieve final alignment and retention.

Using the BWS™ in combination with Myobrace for Adults™ appliances can improve
treatment results and lessen treatment time.

By attending an MRC educational program, you can learn how to effectively incorporate
these appliances into your practice, delivering the best results for your patients, while
 maximising your financial gain.

The majority of dental practitioners can see the demand for a simple yet effective solution
to treating malocclusion in adults. The demand for adult treatment is evident, and the Myobrace for Adults™ is the solution.
« Return to News